So, been awhile...
Nursing & College
: Mental Health rotation is over next week. Not sure if I'm gonna pass. Been taking 900mg/day (1200mg when I need the extra push) of St. John's Wort to help stave off the physical manifestations of my anxiety, but it doesn't do much to make me more talkative/social. I think it's more mood stabilizer than anxiolytic. Gives me a slight, dull buzz in the head. Noticed it's blunted the usual mental chatter and spiraling feeling of doom I get whenever my anxiety spikes high...so guess that good? Could also be placebo effect.
I had a list of supplements to buy, but CVS only had 2 (SJW & Valerian root). Gonna buy some 5-HTP, skullcap, passion flower, and kava kava...and think there were more, but all I can remember atm. Bought Kava Yogi tea but the dosage probably isn't high enough for any effect.
Self & Style
: Dyed my hair auburn using
Garnier Ultra Color R2
. Dude, it's perfect. Think I'll keep my hair this colour forever, lol. Gotten a lot of compliments. Actually bought 2 backups of
Garnier Ultra Color R3
which is the brightest red in this line, but worried from some of the online pics that it might be too 'fire engine' or fake. Seeing how bright R2 is, kinda scared to even use R3. Probably try after nursing or during the summer. The best thing about this dye is that there's no need to bleach dark hair (my natural colour is dark brown, maybe 1 or 2 shades away from black).
Finally got the hang of this top lid eyeliner thing. Yay. Still working on wingin' it asian style...aiming for dramatic cat-eye. Think the problem is I don't keep my eye open while drawing.
Watching
: Working my way through Netflix's selection of Korean dramas. Seen 49 Days, Manny, and Vampire Prosecutor. Currently on 'Bread, Love, and Dreams' (kicks ass). I've noticed a pattern to these shows...Koreans like being unhappy. And if there's an old dude, mark my words that old dude will die eventually. Either in the beginning or at the end to spur the MC into drastic change or to make more dramaz.
Playing
: 01/28/2013 - omg, playing Dark Souls and the hydra in Ash Lake just committed suicide, lol. He fucking flies and goes off like a water canon if you run away from him. Best part of the game so far as I was not expecting any of that, haha.
Doujinshi & Website
: Umm, updated the online store with most of the items below. Collection website is updated on my HD but not online...dunno when I'll get to updating anything other than the sales.
This is everything I've gotten over the past 3-4 months (since 1st semester nursing let out). Got a new phone so my camera got upgraded as well (see how different some pics look. 3 different batches xD). Dunno why Photobucket keeps resizing the pics from my new phone. My older phone pics look better+bigger. :/
Let me know if anything looks interesting, I'll probably scan it...eventually...haha.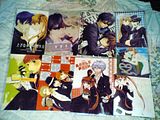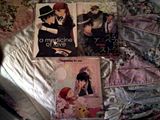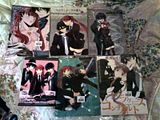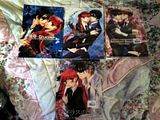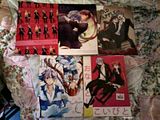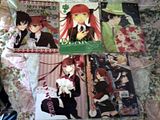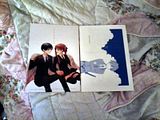 Arcana Famiglia doujinshi - Jolly/Felicita, Luca/Felicita, Ash/Felicita, Nova/Felicita
. Whoo, my latest fandom. Hoping it will be the last big one (this is what i said for Hakuouki and see what happened...sigh).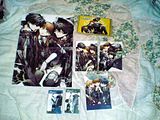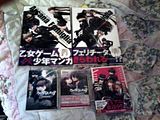 Arcana Famiglia official merchandise
. 2 art books, 2 novels, 1 comic anthology, 2 phone straps, some cards, 1 magazine poster. Usually don't buy posters, but I love the artwork so much. @@ The 1st artbook is apparently HTF now? The 2nd artbook is only worth it if you like Ash + has a few more of the newer released artworks. I was kinda disappointed but do love it anyway.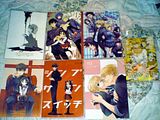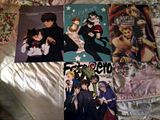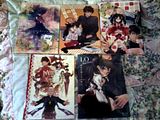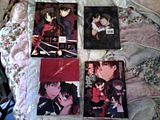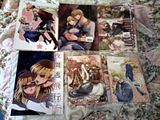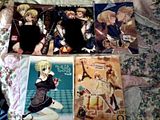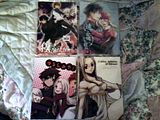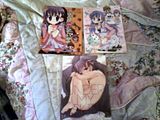 Fate/Zero - Kiritsugu/Irisviel, Kariya/Sakura, Shirou/Sakura, Kirei/Rin, Gilgamesh/Saber
. Umm, my other newest fandom. Trying to cut down and buy only really nice books... Been trying to get 2 earlier Kirei/Rin works by 'color' but auctions always going up to $50-$60+. I don't love this series that much, haha. One day I shall have them. *stalks long and hard*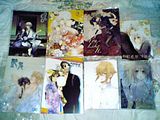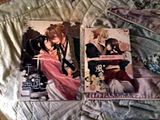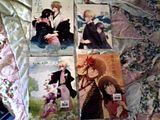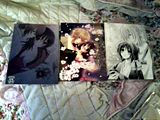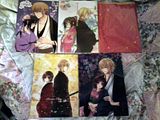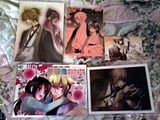 Hakuouki - Kazama/Chizuru
.
Top two here
cost $40 each. Most I've spent on single doujinshi in a loooong time. T_T The popular artists for this series always have bid wars. x.x Actually, a lot of the books here were pretty expensive, lol. At least $20+ each. *wallet is sad*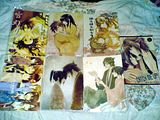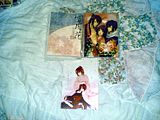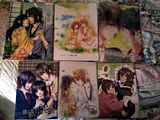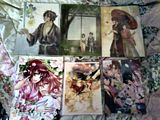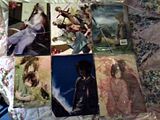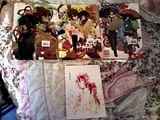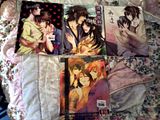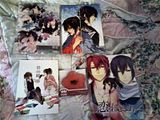 Hakuouki - Okita/Chizuru, Saitou/Chizuru, Heisuke/Chizuru
. That orange thing in the last pic is a novelty that came from one of the C83 books. It's filled with water and has a cute pic of chibi Okita, Chizuru, and Saitou.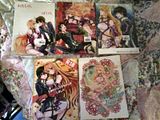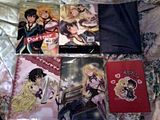 Tales of Xillia - Jude/Milla
. Books for this pairing get expensive (depending on circle) and rarely seen on auction. Lost 2 bids for Gaius/Milla books (went to $30+ each x.x). Hoping the artist has some leftover at the next major event.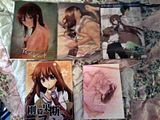 Steins;Gate - Okabe/Kurisu
. Always some good stuff. I'll scan one of these soon.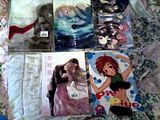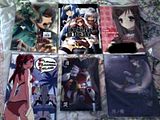 Final Fantasy XIII
- Hope/Light
Final Fantasy VII
- Tseng/Aeris, Cloud/Yuffie
Valkyrie Profile 2
- Rufus/Alicia, Lezard/Lenneth
Xenosaga
- some chaos/KOS-MOS, Allen/Shion, Jr/MOMO?
Star Ocean 3
- Albel/Sophia. completing my Alphia collection, lol
BlazBlue
- Hakumen/Tsubaki, Jin/Tsubaki
Rockman X4 (Megaman X4)
- Zero/Iris, general. wishing i bought more from this circle but wasn't sure if their books were comic or novel only.
Legend of Zelda: Twilight Princess
- Link/Midna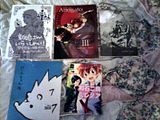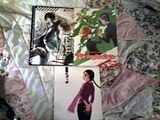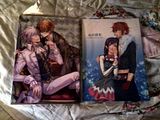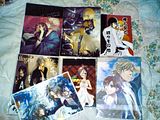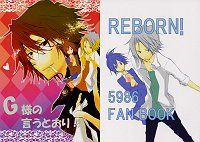 Reborn - Hibari/Chrome, Gokudera/Haru, Mukuro/Tsuna, Byakuran/Shouichi, Ryohei/I-pin, Roll general
. Finally, another Hibari/Chrome added to the collection. Mwahaha. Only need 1 more book from this circle. More GokuHaru books but sold some already...forgot to take a pic of G-sama. Ryo/I-pin cuz it's cracky as hell. Apparently, I can still get excited over 6927 books cuz I love that GA-CHUCK anthology. Hmm, think I forgot to include 1 ByakuShou book...one of the newer releases by microcuts, has Byakuran w/ wings on the cover.
Also some
Bleach - Urahara x Yoruichi, Ulquiorra x Orihime
in the last pic. Already sold the UlquiHime. Love the 2 UraYoru, such great art.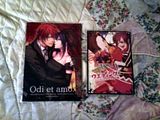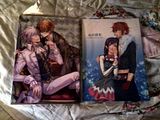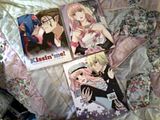 Aquarion EVOL
- Kagura/Mikono
Macross Frontier
- Alto/Sheryl, Brera/Sheryl, Michael/Klan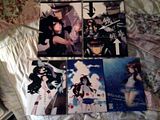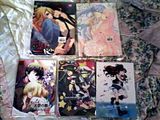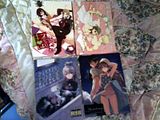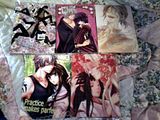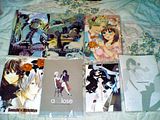 Pokemon Black & White - Subway Master/Touko
. Ooh, forgot...this is actually my newest fandom, wtf. Haven't even played this game but one of my friends likes it..and well...yeah. This shit gets expensive tho cuz apparently Nintendo goes after anyone that uses their stuff, so no mail order. Spent around $40 on that anthology after bidwar auction but managed to get an extra from C83. Huhu, oh well. T_T Hoping to sell that auction book.
Tiger & Bunny
- Koutetsu/Karina
Vocaloid
Gakupo/Luka
Ao no Exorcist
- Amaimon/Shiemi
Darker Than Black
- Hei/Yin
Hiiro no Kakera
- Yuuichi/Tamaki
Clock Zero
- Madoka/Nadeshiko
Inu x Boku SS
- Miketsukami/Ririchiyo, Renshou/Nobara
Yondemasu yo Azazel-san
- Beelzebub x Sakuma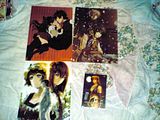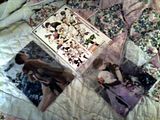 Pic 1
: Fate/Zero KireixRin doujinshi clearfile, Hakuouki KazamaxChizuru clearfile, Steins;Gate clearfile, DOA4 Kasumi postcard
Pic2
: Steins;Gate clearfile, Arcana Famiglia poster & card, Toranoana freebie shitajiki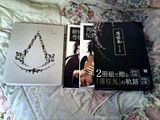 Assassin's Creed Encyclopedia v2, Hakuouki 2 set collection artbooks